It's an Ice Cream Revolution
Sep 26, 2019
Ice cream is one of my favorite foods. Always has been. So you can imagine the hesitation in my heart when trying to decide if I could really live this plant-based life without it.
It truly gave me pause but I chose to make my health a priority. That doesn't mean I didn't miss ice cream though. In fact, I became intent on finding the best plant-based version out there.
I tried SO many different brands. Some were pretty decent. Others should be ashamed of themselves. But none of them really gave me the feels of real ice cream. I had given up and pretty much settled on the fact that for the rest of my life I would have ice cream that was basic at best.
Over the 4th of July holiday I decided to host a potluck at my house for some friends from church. I was responsible for dessert. It was mid-summer so I chose to take advantage of all the juicy berries and make a berry crisp.
Dynamic Duo! Together they taste like the best turkish coffee you've every had.
Everyone knows that when serving a warm fruit crisp, vanilla ice cream has to go on top. I think it's a law in some states. So I went in search of some plant-based ice cream that I could serve.
As previously stated, I had no go-to brand so on a whim at the store I grabbed a random pint of vanilla basically because the packaging stood out to me. As I placed it in my cart, I said a silent prayer for this one not to have the overpowering coconut flavor that a lot of plant-based ice creams tend to have. All I wanted was something decent enough to compliment the berry crisp.
My triple berry crisp!
I get home, make the crisp and get it in the oven. As its baking, I open the ice cream to taste it. I mean, I've got to know it's at least decent before slathering it on my luscious berry crisp. I made a tiny taste-test bowl and head into the family room to continue binging Queen of the South (ya'll watch it?).
I taste the first bite. My eyes get big. I jump up and run to the freezer. Clearly I purchased the wrong thing. I must have accidentally got the dairy ice cream instead of the non-dairy. All I kept thinking is that my stomach is about to be tore all the way up.
Yanked the pint out of the freezer. Eyes nervously scanning the container.
WHAT?!
It actually is vegan!! Relief and gratitude rush over me all at once. I had found it. Vegan ice cream (well, actually gelato) that tasted JUST like dairy ice cream (well, actually better).
So of course I started eating it with everything…
Here it is with my vegan pumpkin bread…
Don't let looks fool you. This Revolution Cardamom Spice Gelato + warm pumpkin bread combo tasted like a legit restaurant dessert!
And here's Revolution Gelato's Mint with JUST for all vegan chocolate chip cookies…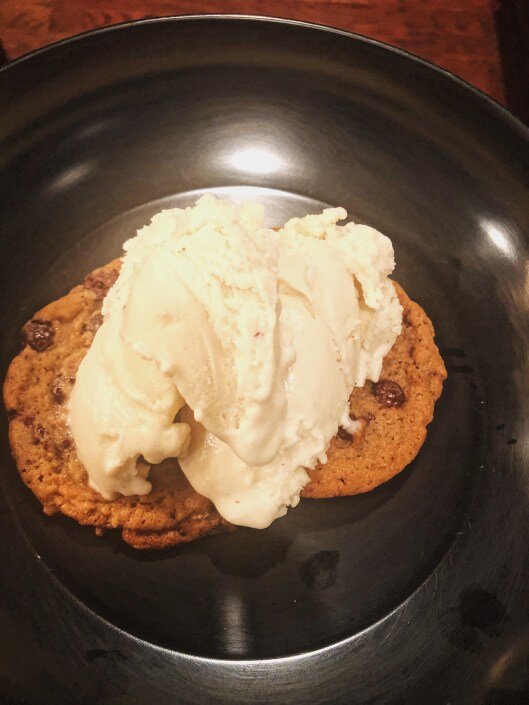 Mint + Chocolate Chip = Heavenly
Oh and I didn't get any pics of the Revolution Gelato French Pressed Coffee (which I adore). My non-vegan, ice cream lovin' teenager ate it all before I could (now that's saying something!).
As you can see I'm over-the-moon excited to have finally found amazing vegan ice cream.
Big shout out to Revolution Gelato. From Vanilla to Cardamom Spice, French Press Coffee and Mint. You've got a fan for life.
Viva la Revolution!
Get your Daniel Fast Kick Start Cookbook!
Join my Daniel Fast email list and receive this free cookbook with 7 of my favorite, mouthwatering Daniel Fast recipes. Plus, you'll get early access to Daniel Fast tips and exclusive recipes.