Vegan Roasted Garlic Mashed Potatoes
Nov 08, 2019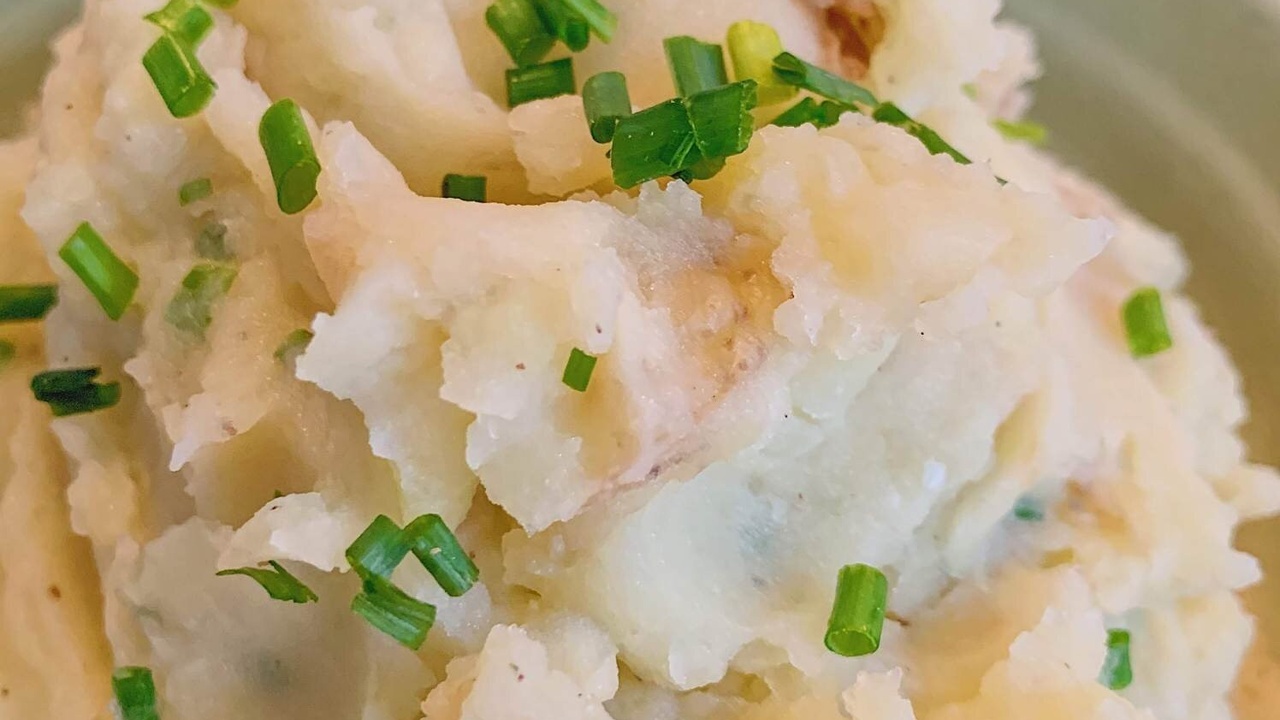 Prep Time: 10 mins
Cook Time: 30 mins
Total Time: 40 mins
Serves: 6
Mashed potatoes and gravy is one of those dishes that I truly missed after going vegan. Thankfully with this recipe you don't have to miss out! These mashers are creamy, delicious and satisfying. Don't forget to try them with my vegan brown gravy!
Ingredients
6 medium Yukon gold potatoes, cut into large chunks
2 tsp sea salt
1 bulb of garlic
1 tsp olive oil
1/4 cup finely diced chives
1 - 2 cups of the potato cooking water or plant milk
3 - 4 Tbsp Earth Balance Vegan Butter
Sea salt and black pepper to taste
---
Instructions
Preheat the oven to 400 degrees.
Cut the top of the bulb of garlic so that all of the cloves are exposed. Place on a piece of foil large enough to cover the bulb completely. Pour the olive oil over the garlic bulb, sprinkle with a bit of sea salt and wrap with the foil. Place in the oven for about 30 - 40 minutes until the cloves are soft and easy to squeeze out.
While the garlic is in the oven, add the potatoes to a large pot and cover with water. Bring the potatoes to a light boil over medium-high heat. Add 2 teaspoons of salt. Cover and cook potatoes for 30 minutes or until tender. They easily should slide off a knife when pierced.
When your potatoes are tender, reserve 1-2 cups of the cooking water. Then drain off the remaining water. If extra cooking liquid remains in the pot once drained, place the potatoes back on the heat about a minute or so to allow it to evaporate.
Add the roasted garlic cloves to the pot and mash along with your potatoes using a potato masher. Be careful not to over-mix as potatoes can become a gluey texture.
Add butter, salt and pepper to taste and stir to combine. If your potatoes are dry, add in a splash of cooking water or warmed plant milk until desired consistency is reached.
Taste and adjust seasoning as necessary. Top with chives. Serve with gravy and enjoy!
---
Need more vegan Thanksgiving recipes? Try these!
Get your Daniel Fast Kick Start Cookbook!
Join my Daniel Fast email list and receive this free cookbook with 7 of my favorite, mouthwatering Daniel Fast recipes. Plus, you'll get early access to Daniel Fast tips and exclusive recipes.